Nourishing Goats Milk and Honey Melt and Pour Soap Tutorial
Nourishing Goats Milk and Honey Melt and Pour Soap Tutorial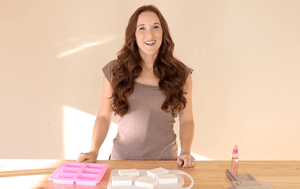 Made with fresh honey, goats milk and nourishing oils! If you like soft and luxurious soap, this is not one to miss. A gentle, moisturizing, soap with a creamy lather and relaxing scent. Keep your skin baby smooth and soft! 
What you'll need:
1 lb of goat's milk PureLux melt and pour base
2 Tbsp Honey
1 Tsp Vitamin E oil - If you have vitamin E capsules you can break those open and use.
1 Tbsp of your favorite oil (I usually use sweet almond oil, jojoba, or argan oil)
Skin Safe Fragrance Oil of your choice (optional) - I prefer the natural fragrance of the sweet almond and honey. 
Thermometer
99% Isopropyl Alcohol in Spray Bottle
Microwave Safe Bowl
Stir
Kitchen Scale
Soap Mold
Soap Cutter
Step 1: 
Chop your 1 lb of goat's milk PureLux melt and pour soap base into evenly sized cubes. Place into microwave safe bowl. Microwave in 10-15 second intervals, stirring in between until melted into a smooth consistency. Do not burn - or boil, burnt soap does not smell good!
Step 2: 
Mix in your 2 Tbsp of honey. Mix well. Add and mix in your 1 Tbsp of your favorite oil (I am using sweet almond oil). Add and mix in your 1 Tsp of vitamin E oil. Mix thoroughly. You can add in fragrance oil at this time if you'd like!
Step 3:

Once mixed thoroughly, pour right into your molds. Once poured, spray the surface with alcohol to get rid of any air bubbles. 
Step 4:
Let sit for 1-3 hours until firm. Pop right out of the mold and all done! Wrap tightly if you are gifting so prevent any sweating!