Blue Melt and Pour Soap with White Chunks
Blue Melt and Pour Soap with White Chunks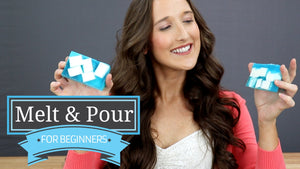 Lets get started and gather what we'll need:
1-2 lb of Clear Melt and Pour Soap
1 lb of White Melt and Pour Soap
Blue Liquid Soap Dye
1 oz Fragrance oil of your choice that is soap safe –  I'll be using Rain Water.
You'll also need
Our 10" silicone loaf mold
Soap Cutter
1 Microwave safe bowl and 1 Spare Bowl
Silicone Spatula
Isopropyl alcohol in a spray bottle
Kitchen Scale
Thermometer
Thermometer
First we'll start by taking the soap cutter and cutting up the white melt and pour soap into small even sized ½" cubes.
Place into in a bowl and set to the side.
Next take your clear melt and pour soap and cut into pieces and place into a microwave safe bowl to heat. If you're using our 10" silicone loaf mold you can use around 1lb - 1.5 lb. I used around 20 oz of clear melt and pour soap, you're welcome to use a little more if you want the soap bars to be a little taller.
Heat your clear melt and pour soap cubes in 30 second intervals in the microwave until completely melted and smooth.
Now that your clear soap is melted, add 0.5 oz of your soap safe fragrance oil to your blue mixture and mix well (depending on the fragrance you choose to use, ensure you are not over the recommended usage amount for soap).
Next take your blue liquid soap dye and add around 1 drop per ounce of clear soap you melted and stir well.
Immediately go ahead and grab your 10" silicone loaf mold and pour your blue soap mixture into the mold.
Once the blue soap has cooled to around 130-135 F, take a handful of your white soap blocks that you set to the side and spray them well with your isopropyl alcohol.
Place the cubes of white soap into the loaf mold, adding enough until the loaf mold is pretty full.
Spritz the top of the soap with more isopropyl alcohol to get rid of any air bubbles and allow the soap to harden. Once hardened you can remove from the mold and cut into slices where you'll see your gloriously colored clear blue soap white white soap chunks. And you're done!