Activated Charcoal and Tea Tree Oil Detoxifying Melt and Pour Soap Tutorial DIY
Activated Charcoal and Tea Tree Oil Detoxifying Melt and Pour Soap Tutorial DIY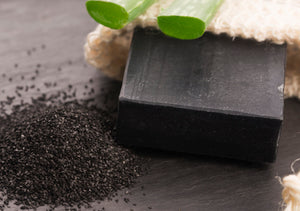 Activated charcoal has been used for centuries for it's detoxifying and clarifying properties - known to draw out impurities, dirty, and oil from the skin it is ideal for a natural soap. Combined with the clarifying, antimicrobial natural essential oil - Tea Tree, this soap will help fight break outs, acne, oil build up, and clogged pores. 
We love this soap because it is extremely refreshing. The additional burst of peppermint essential oil will not only help keep your skin happy and healthy looking but its wonderful in the morning when you first wake up or when you finish a heavy work out. Ideal for those with oily skin! It's super easy - follow along and see just how simple it is!
What you'll need:
Step 1: 
Chop your 32 oz of Aloe Vera PureLux melt and pour soap base into evenly sized cubes. Place in microwave save container and heat for 30 sec-1 minute intervals, stirring in between until melted into a smooth consistency. Do not over heat! Burnt melt and pour does not smell good!
Step 2: 
Take your 2 tsp of activated charcoal and mix with your 2 tbsp of 99% isopropyl alcohol until smooth with no clumps. Once mixed and chunk free, pour your charcoal liquid into your melted soap base and mix thoroughly. 
Step 3:
Pour your tea tree oil and peppermint oil into the melted soap base, mix thoroughly. Spritz your silicone mold with isopropyl alcohol. Pour your melted soap base into your mold, spritz the surface with isopropyl alcohol to get rid of any air bubbles. 
Step 4:
Let cool for 2-4 hours or overnight, until completely hardened. Remove from mold once hard and you're done! Cut into blocks if you used a loaf mold or pop our of your silicone shaped mold! Wrap tightly if gifting to prevent sweating!
Want a more whimsical look? Try our Marbled Charcoal Goats Milk Shea Butter Melt and Pour Recipe!